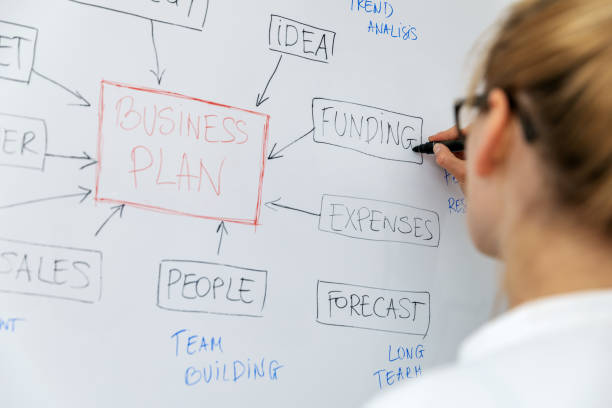 Every business wants to be successful. Every company wants to elevate and to achieve higher, but do you ever question yourself how it is possible? To start a new venture or to develop as a business, a business plan is worth making a priority. Reasons why a business plan is crucial and its key elements will be explained in today's blog.
Table of Content
What Is A Business Plan
An Executive Synopsis
Company Description
Marketing Capabilities
Market Analysis
Operations
Sales and Marketing
Business Venue
Financials
Conclusion
What Is A Business Plan
A business plan (bp) is a written document that states the aims and objectives of a company and how this can be achieved. Business plans can be layered out as bullet points, diagrams and/or map templates. In other words, the purpose of a business plan is to design an effective development method, determine financial requirements and attract future investors in supporting the business. To add, creating a plan helps to discover strengths and weaknesses. This helps to address potential weaknesses to overcome delays and barriers to business development. Business plans can be designed with consultants in the UK as well.
What we mean by the key elements of a successful business plan is to identify the different aspects an organization needs to consider, to design and follow its growth plans. Without a business plan in place, it will be very difficult to achieve business goals.
Going back to talking about a business's strengths and weaknesses mentioned a bit earlier in this blog, if you're struggling with how to prepare a business plan, there is a great simple analysis tool called SWOT. This stands for Strengths, Weaknesses, Opportunities, and Threats. This helps every business with their plans in the UK This is a great beginner-friendly technique for small and medium-sized enterprises (SMEs) when creating a business plan.
Now, let's have a read of the main aspects of a successful franchise business plan, shall we?
An Executive Synopsis
Fundamentally, an introduction of a franchise business plan is essential. This provides a summary of the company as well as an insight on future goals and objectives for the business plan structures. An executive summary will also state how the company will work towards their aims and goals.
As an organization, they will need to signify awareness and acknowledgement of their competitors – what the company needs to do to stand out from other similar businesses to them. Possible risks and problems that could occur are also good to state in the beginning stages to tackle them quickly for a smooth business plan, growth and its structures.
To give a detailed account, most introductions begin with the description of a business' aims and objectives. Secondly, Actions on how to reach the goals and provide a rough estimate should also be discussed. A business needs to ensure that it contains information that strengthens its standing with lenders and expresses that the company has a good grasp of business necessities.
Company Description
As mentioned previously, a summary of a business is vital. However, this sector needs to be described in further detail. Here are a few tips on how to give a detailed synopsis of a organization:
• business' construction
• mission statement
• business background
• future projections.
Although a detailed financial history is not necessary at this stage, an overview of projections and business facts will be worth a while. As a bonus, making business goals as reasonable and as realistic as possible will demonstrate your understanding of their business growth. This is very advantageous when creating a business plan.
To read more on the company description, please visit our 'Need Help Writing a Business Plan: B&F Services Is Here For You' blog.
Marketing Capabilities
This sector deals with a business' organizational structure – most specifically the management team. A company will need to elaborate on how they want to organise the business, who will settle key posts and what makes them meet the requirements and makes them qualified for the role.
Furthermore, it is clever to incorporate as much business and employment background as possible for every management staff. This is because lenders would want to know that a company has a strong and reliable team. On the other hand. It's significant to make sure all information a business displays relates to their role as a franchise – no need to include background information that isn't relevant. Click on our 'Why A Marketing Plan Is Essential' blog to have a full understanding of the importance of demonstrating marketing capabilities in franchise business plans.
Market Analysis
The market analysis explores the up to date market state and to be aware of who the competitors are to give a demonstration of how long-term an organization is. Lots of key facts and statistics are required for this section.
To add, these are the sort of questions to expect in this sector:
How large is their market?
Have they identified any competitors and competitive advantages?
Discuss what professionals are forecasting for the service/product concerning growth possibilities and trends for your specific market (can include legislative, demographic or environmental factors).
In other words, even if a company's plan includes a pitch that states the next steps, a marketing plan is required. For example, every business knows that social media is a great tool for marketing. This may include what we have discussed previously in our blog 'How Social Media Boosts Your Business Plan'. This should be seen as an extension of their advertising and marketing strategies documented in the Franchise Disclosure Document (FDD). This solves the worry of getting and attracting potential and new customers. The purpose of a marketing plan will help to determine the kind of marketing technique a business needs for successful growth.
Read more on 'Everything You Need To Create A Marketing Plan For Your Small Business on our website.
Operations
The operations plan is a written document that highlights a few steps on how to run a business. This includes information on organization structure, ecosystem and infrastructure. A company should have details on how they plan on enhancing their operation in the long run e.g. any new initiatives the business may plan.
Moreover, a firm will need to cite the sources of supply, materials, labour and resources they plan on cultivating.
Such questions may be asked like:
What does the business have and what is required
Critical strategies and delicate problems along with potential alternatives
Current properties
What are the health and safety practice
Sales and Marketing
Discussions on sales and marketing techniques used for a business franchise need to be addressed in this area. Almost all owners of profit-making franchises ensure that they maintain control over their marketing resources and campaigns. This lets a business carefully support a company's branding. Further research and a request are needed from their franchisor for the accuracy of their business plan.
This area includes demonstrating the methods needed and giving a detailed account of where the business will perform advertising. This then leads to methods to attract potential and new customers as well as how to launch the business.
Business Venue
Decisions on the best location to operate a business is very important as they will need a franchisor beforehand. Considerations on the location, running cost, uniform business and business growth need to be thought about carefully. A place for workers to operate effectively will help with concentration and togetherness as a business.
Financials
This is the key to a business plan. A company needs to give the lender a bigger picture of the business's financial situation. Most times, a lender won't be financing (funding) every franchise investment. A lender needs to know if a company is using a mixture of loans, credit and personal income to have an idea of how they can fund them financially.
Additionally, a business is required to do the financial projection. This means the firm needs to give a sensible and reasonable time period of when the lender can anticipate full repayment of loans. Graphs and charts that display start-up costs, projected sales, and project projected profit and loss.
The franchisor can be helpful to an organization in establishing this section – to help with business plans in the UK. Yet, bear in mind that the franchisor is restricted lawfully about making particular claims about projected wages. Be conventional with projections, as unexpected holdup and unpredicted circumstances can occur.
Conclusion
As mentioned at the beginning of this blog, Every business wants to be successful. Questions may arise, such as; how is it possible? This blog expressed the key elements and the benefits of preparing and using a franchise business plan as a priority. The key elements of a franchise business plan were outlined, such as an executive synopsis, company description and marketing capabilities. Further areas were highlighted, which included market analysis, operations, sales and marketing. Business Venue and Financials were also discussed. All these components help with a business plan in the UK.
When a franchise designs their business plan, they need to keep in mind that it is a proposal, not a winning lottery ticket. It's a tool to support a firm to make the right business choices. To make a good business plan, a professional's advice can be helpful. Employing an expert consultant can be beneficial. Providing a team of professionals with their brilliant ideas can really enhance the possibility of the business plan becoming the breakthrough of business success. At B&F Services (a business consultant that helps with business plans firms in the UK), we create excellent business plans that highlight realistic goals, to help navigate franchise business for the next following years. Our duty is to ensure that everyone is on the same page.