Services Overview
The UK has a long-standing status of world's business and financial hub. As a result, it attracts tourists and positions UK's hospitality industry at advantage. Tourism remains a hugely influential business within the UK.
Industry analysis
The hotel industry in UK is worth £20.1 billion in 2019, providing more than 370000 job opportunities and consisting of 9766 businesses. The hotel industry flourishes in central cities with active business activities such as London, Manchester and Birmingham and tourist destinations such as Edinburg and Glasgow. Scotland has the largest concentration of hotels in the UK with a share of 15.1%. Top hotel destinations in the UK are Brighton, Edinburgh, Cardiff and Liverpool.
This is an evident that the UK's hotel industry has attained a sustained growth in the last five years:
| Year | Transaction Volume of UK Hotels from 2014 to 2018 |
| --- | --- |
| 2014 | £6,200 million |
| 2015 | £6,800 million |
| 2016 | £4,000 million |
| 2017 | £5,500 million |
| 2018 | £6,800 million |
There has been a major development in the recent past of UK hotel industry. According to a report, 15200 rooms were opened in the UK in 2017 which is considered as a 2.4% growth of UK hotel supply in 2018. The average daily rate (ADR) of hotel stay in London is £149, compared to other UK regions which scores less than half at £72 In 2019.
The UK's hotel industry has been mostly dominated by budget hotels, making up 70% (4,100 rooms) of them are newly built. At the same time, four-star hotels and service apartments had added 8500 rooms in 2018 with a contribution of 40% of new rooms in 2018. It is predicted that budget hotels will continue growing for the next five years while four-star and service apartments will hold on to their current market share.
The top 10 countries whose residents (including British and other nationals) provided the most visits to the UK are:
France with 4.06 million
United States with 3.45 million
Germany with 3.34 million
Republic of Ireland with 2.89 million
Spain with 2.39 million
Netherlands with 2.06 million
Italy with 1.99 million
Poland with 1.92 million
Belgium with 1.04 million
Australia with 0.98 million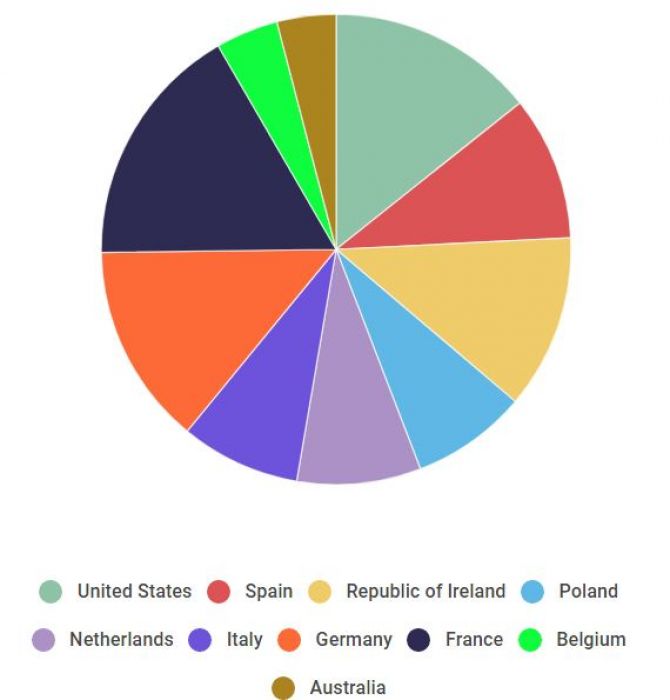 If you like the idea of really being at home with your business, then running a B&B (Bed & breakfast) could be perfect for you. From a guest's perspective, a well-run B&B can be more comfortable and more local than a hotel, offering homely surroundings and a relaxed atmosphere. They can be a home-from-home and a welcome respite for weary travelers. A B&B is different from a hotel in that it's generally more basic and you will offer a bed for your guests to sleep in, and a full breakfast before they check out. No gyms, no health spas, and no concierge service. B&B is a rising subsector of hotel industry. It is worth at £2 billion in the UK and consists of 25,000 small owner-managed businesses with 50 million guest nights. This sector represents 35% of the total hotel industry in the UK and is having indirect competition with budget hotels as its market is 28% larger than that of budget hotels.
Critical success factors are the areas in which a business must excel to survive in the marketplace. The critical success factors in the hotel industry have been changing over time, driven by global competition and high expectations from customers. Hotels are focusing on quality management to attract new customers and earn repeat business.
Formulating a business plan well helps dealing with the target market, fund required and the time the venture will take to accomplish its goals. A hotel business plan arrangement makes a business operate in a convenient manner. A budding entrepreneur needs to formulate a proper business arrangement that will be beneficial for his hotel business. The proper arrangement of a business plan should encompass every characteristic of your hotel business.
B&B is performing as a rising business in the UK and B&F can help you on making a thorough business plan, understanding the market and sharing with you how to transform a better business with your great idea. We can also assist you with involved rules and regulations. If you would like to discuss with our professionals, contact us at +44(0) 203 637 6137.
Your advantages with us:
Consultants with over 10 years experience and market know-how across a wide range of industries

Decades of experience in projecting financial performance and growth of business all from one hand:

Consulting and Coaching

Professional Business Plans

Business Establishment and Accountancy

Comprehensive Software solution

"save time and get experience"

Over 3,176 established businesses in the UK

Over 1,756 completed business plans

485 completed Tier 1 visa business plans

96% secured funding based on our business plans

£55 mil. raised for SME`s