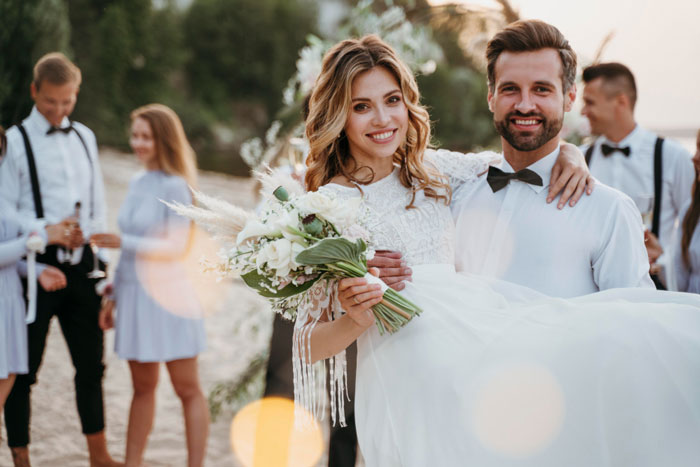 Services Overview
Are you a wedding or events planner and considering starting your own business? Both the event management and wedding planning industry demonstrate huge market potentials currently.
Industry analysis
The capital of the UK, London, is ranked the first place of meetings and events activity across the cities in Europe, Middle East and Africa. The event industry is thriving with worth over £42 billion, including direct spend of event delegates, participants and organisers which generate an 8% increase compares to previous year. There are over 25,000 businesses operating within the industry. This sector mainly covers:
Conferences

Exhibitions

Meetings

Conventions

Events related to music, trade, culture and more...
The largest subsector of event management is conferences & meetings which contributes over £19 billion annually followed by exhibitions & trade shows (£11 billion). Below shows the contribution of other subsectors:
The event management industry plays a very important role in the UK economy. By instigating growth in many other economic sectors such as hospitality and retail which attract a lot of international visitors yearly. The sector contributes 35% of the visitor economy. Other vital statistics can be seen in the infographic: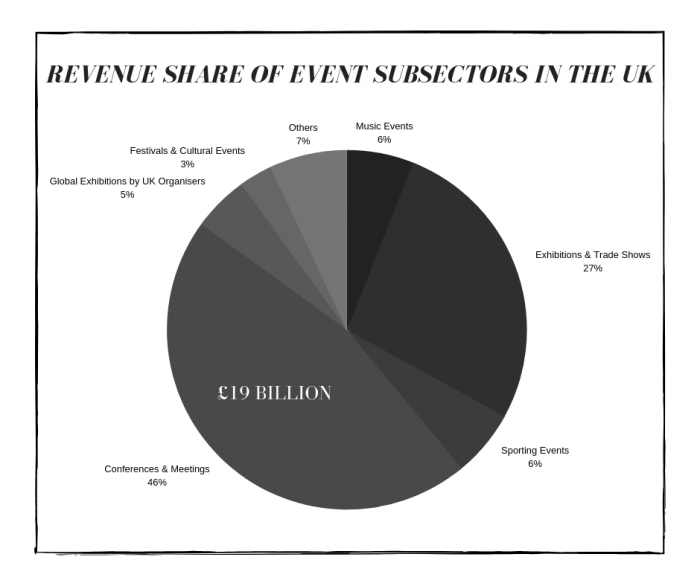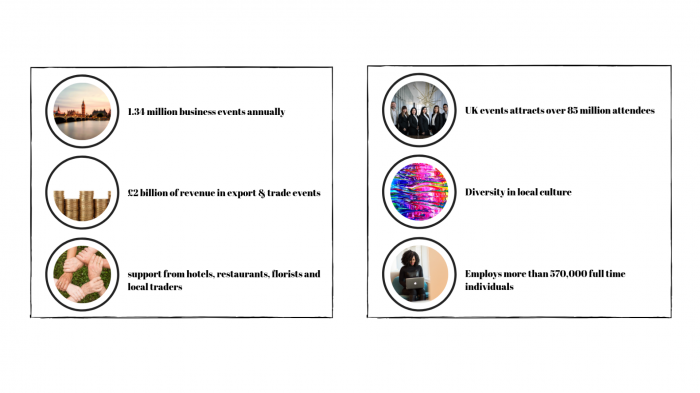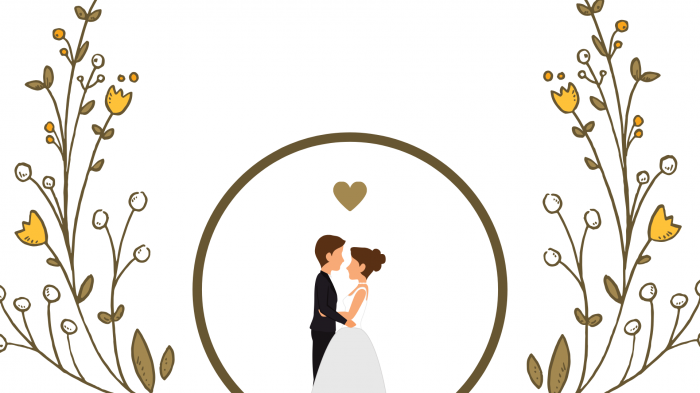 UK wedding event planning market is worth £10 billion and offers a lot of opportunities to tap into this subsector of event planning. According to the UK National Bureau of Statistics, there were 249,793 marriages in 2016, which were higher than that of 2015 by 1.7%. 24% of the marriages were religious ceremonies.
According to the UK wedding report throughout 2017 and 2018, over 50% of the respondents spent between £5,000 to £20,000 in wedding which is an average consumption on wedding in the UK. Wedding events are seasonal. Apparently it is a peak in summer (45%) compared to autumn and spring; 26% and 22% respectively. The most popular wedding months are proved to be July (15%), August (17%) and September (16%).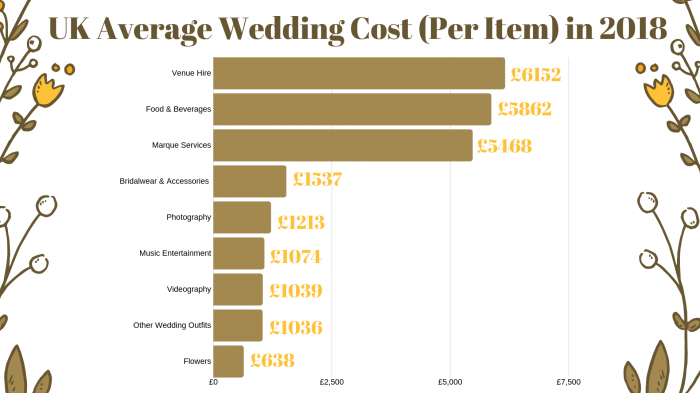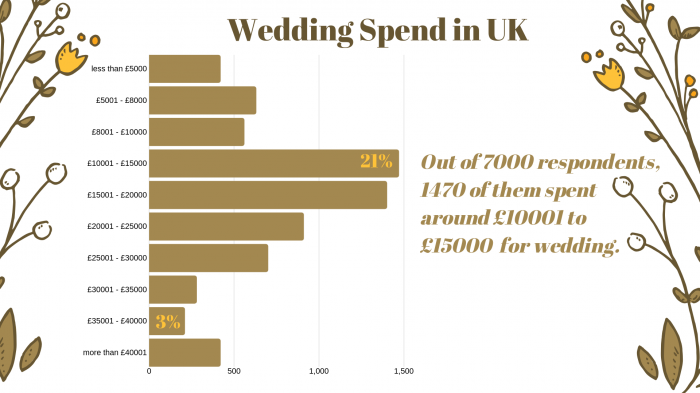 Apart from months and seasons, day like Saturday, is popular as accounted for 56% comparing to weekdays. An average number of guests invited to the weddings is 96 and in only 17% of instances, the number of invited guests were more than 100.
Wedding event management involves several activities, ranging from venue hire, the supply of food and drinks and other activities such as photo-taking and videography, music and entertainment, flowers, hair and makeup, wedding cake and printed materials. Most of the wedding planners provide the ancillary in-house services while others outsource for each activity.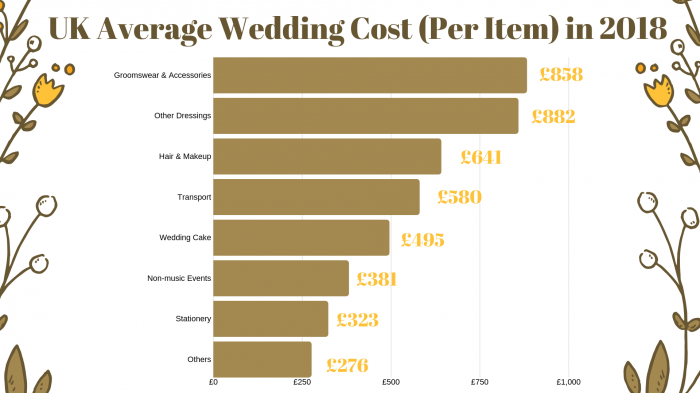 If you are extremely organized and have a strong attention to detail, a career in the wedding and event planning industry might be right for you. According to Entrepreneur, an online source for business information, the start-up costs for becoming an event planner are less than $2,000 and it is a business that can beoperated from your own home. The event planning business doesn't require much equipment to get started. As long as you have basic office equipment, such as a computer, printer and word processing software, you can write client proposals and print contracts. Event planners also need to have a cellular phone for their business and be prepared to take client and vendor calls at any time.
With the wedding industry booming, start-ups has compiled a step-by-step guide to start a wedding planning business. Most people in the UK tend to get married between the months of May and September. As it is a seasonal business, your earnings are likely to fluctuate.
Proper financial planning is essential. You also need to work out how you will charge your clients, which will depend on what kind of service plan to offer. If your plan is to secure 'full' planning contracts, where you oversee the entire process from start to finish, generally you would charge a percentage of the entire budget of the wedding (typically 10-15%), subject to a minimum fee. Proper planning is essential when starting any business, but doubly so when starting a wedding planning business, as the amount of work available will change dramatically with the time of year.
Starting an event planning business will be burdensome. There are various types of event you can specialize in and they are appeared to be interesting. Meanwhile, you cannot simply handle every type of events. With B&F Services, we are a specialist in helping you to structure a better business plan and strategy and give you detailed analysis. We can help gather all your idea to a business. If you would like to consult our experts, please contact us at +44(0) 203 637 6137.
Your advantages with us:
Consultants with over 10 years experience and market know-how across a wide range of industries

Decades of experience in projecting financial performance and growth of business all from one hand:

Consulting and Coaching

Professional Business Plans

Business Establishment and Accountancy

Comprehensive Software solution

"save time and get experience"

Over 3,176 established businesses in the UK

Over 1,756 completed business plans

485 completed Tier 1 visa business plans

96% secured funding based on our business plans

£55 mil. raised for SME`s