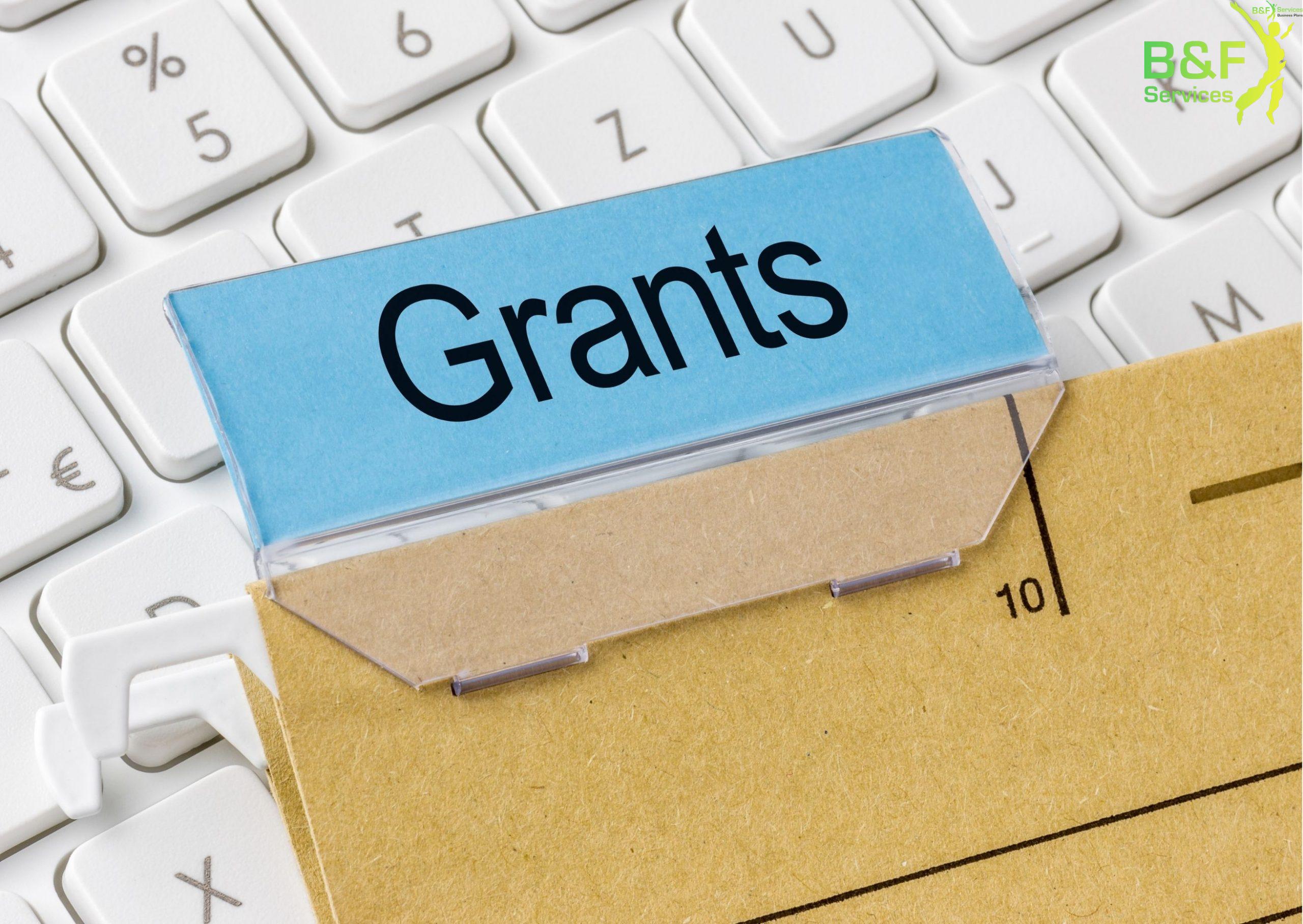 The A-Z of You Need to Know About Business Grants 2021
As an entrepreneur, start-up or small business owner developing your brilliant ideas into a successful and competitive business can be difficult. Finding the right finances to make this happen is vital, whether it is getting started or growing a successful business, funding your business can be challenging. A British Business Bank Survey published in 2019 found that 44% of SME businesses sought some form of external funding in the previous three years. Start-ups and SMEs can gain funding through loans, while this can be helpful for a quick injection of cash, they can impose constraints on cash flow and cause additional stress to a business owner. However, there is another alternative to secure funding for a business. This is through business grants; a business grant can help an enterprise get started and develop without putting its future at risk through loans and debt.
Grants can lead to cost savings, minimize start-up expenses, and jump-start a company's growth. The greatest benefit being that business grants do not have to repay, unlike a business loan. Following the unprecedented impact of the coronavirus pandemic on both individuals and businesses around the world, business grants have become more important than ever before.
What is a Business Grant?
Business grants are sums of money provided to a business by the UK government, philanthropists, charities, or other enterprises for a specific purpose that aligns with their goal or a specific programme initiative. Depending on the scheme, grant rewards might range from hundreds of pounds to hundreds of thousands of pounds. Business grants can be aimed at specific location regions, specialized industry sectors, particular types of businesses, or individual community groups. There is a wide variety of business grants and businesses can qualify for them if they meet the objectives and conditions of their specific requirements, an example of this would be a grant aimed at women entrepreneurs CEO. For this grant to qualify the business owner would have to be a woman. Business grants are great for start-ups and small businesses as they do not need to be paid back and do not require you to give any equity away in your company, making it an attractive form of financing for a business.
Why Should I Use a Business Grant?
Using a business grant can be very beneficial for a start-up/SME, as it essentially gives a business 'free money' to help grow and develop its operations as seen in the graph below there are many reasons why a business should use a grant as a finance option.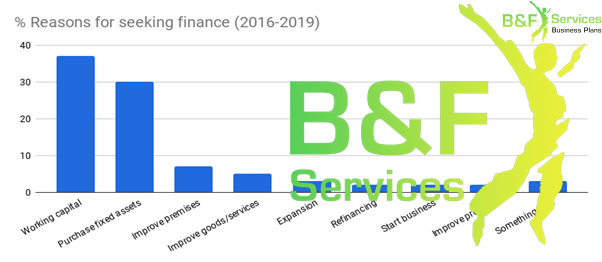 Source: British Business Bank's 2019 Business Funding Survey
Start-ups require capital to get off the ground, and a healthy cash flow is critical to their success. While most owners will use their cash to start the business, few would be able to completely self-fund their company, prompting the need for external funding. This is where a business grant can very helpful. As a business grant can (dependant on the grant) be used for everything from buying stock to marketing and hiring staff, this reduces potential start-up costs. This is also the same for SMEs that want to increase sales, expand their range of products or services, move into new premises, hire more staff, or expand internationally, a business grant can help a business grow. Sufficient working capital is a critical component of every business's financial health and a lack of working capital can have significant consequences for the business's success and future. An SME could apply for a grant to create enough working capital to enable them to fulfil their growth ambitions. Figures from the British Business Bank's 2019 Business Funding Survey showed that working capital is the most common reason for small businesses to seek funding. A grant for working capital might also help a business to capitalise on new possibilities by investing in new products or services that will allow it to grow. Growing a business and increasing sales often requires the purchase of assets such as new machinery or vehicles. While a business may have enough cash to cover these expenses, the option of using a business grant can have reduced the cost of new assets to enable a business to expand. A grant asset is a great way of acquiring an expensive new asset at potentially half the price as grants will pay a percentage of the purchase. This allows a business to have more money in the business, helping with cash flow and allowing the business to finance other areas of the business. Grants can also be used as a promotion tool for a business/idea, as it allows a business to gain credibility for their idea, especially when winning some of the most coveted and popular business grants available.
The grants available & What are the different types of business grants?
Start-ups and small businesses grant come in a variety of forms, ranging from tax breaks to cash rewards. In general, business start-up awards are divided into the following categories:
Direct grants – These are awarded to businesses directly to pay the cost of a certain project. Often these direct grant programmes will ask you to match the grant amount with capital raised by yourself, this would be a percentage of the project's cost ranging from 10% to 50%. There will restrictions and agreements in place about how the grant money may be spent.
Resource and Training grants – Businesses might not have access to funds required to create or develop projects. However, there are several business grants able to help. Several city councils around the UK conduct their business assistance grants, which not only give grant money but also ongoing help in the form of free workshops, accelerators, professional advisory services, and training.
Tax relief – There are various tax relief programmes available to help start-ups and SMEs decrease the cost of paying taxes. An example is the Employment Allowance which allows you to reduce your National Insurance bill by up to £3,000 a year.
How to apply for business grants & the application process
There are dozens of business grants available in the UK at any one time, there are ways you can increase your chances of being award one.  Firstly, through researching the selected grant this can be by contacting the granting awarding body to analyse your prospects. Reading the application form to know exactly what they are looking for and viewing upon the grant's requirements to ensure that the grant's objectives align with your business. Secondly, you should find out if you are eligible for the grant.  As there are so many grants you could potentially apply for, you will need to narrow down your options. Especially if you can apply for only one grant for example within one local council. Thirdly, ensuring you have the necessary funds because many grants require you to pay a portion of the grant money, which means you may have contributed up to 50% of the project's cost. Lastly, making your application. This would be meaning providing a thorough business plan, that is clear work plan, and an outline of your business history and financials. You should also address the grant's aims and explain how the granting body would accomplish its objectives by picking your company.
Local grants are usually processed quickly. Local grants, such as those provided out by local councils, usually have simpler application procedures. Which means you may be waiting up to six weeks for a decision. National or European grants typically take two to six months to obtain. Some application processes can take up to a year.
Between 2019 and 2020, the total business population grew by 113,000 (1.9%). This means that the demands for grants and the application process are only going to become more highly competitive, especially as it is essentially free money. Who doesn't like free money? As the size of business grants can range from several hundred pounds to hundreds of thousands of pounds. It is crucial to realise that applying for a business grant may be a time-consuming and difficult process, with several complex stages, procedures, and processes to get through. This is where B&F services can help with our 16+ years of experience, and our knowledge could prove crucial when writing up a business plan for grants. According to statistics, over half of start-ups are unsuccessful in their attempts to secure funding, With the support of B&F, you can overcome this initial hurdle, with a comprehensive and compelling business plan to prove. Our multi-industry experts can help you to shape your application/business plan from a dream on paper to reality, making it more likely that you meet the qualifying criteria of the grant. 20% of businesses fail in their first year and around 60% will go bust within their first three years. Obtaining a grant for your business might provide the vital push it requires, but getting financing requires planning, rigorous analysis, and research. We can guarantee to deliver an expert team of thinkers, makers and doers to help you with research, grant applications, business plan or financial projections.  Our client's success is our priority, and your success is our reward, if you find a grant that you believe your company would benefit from, contact us today and enhance your chances of shifting your business success.
BandF business plans is here to help you!
Contact us for a Free Consultancy