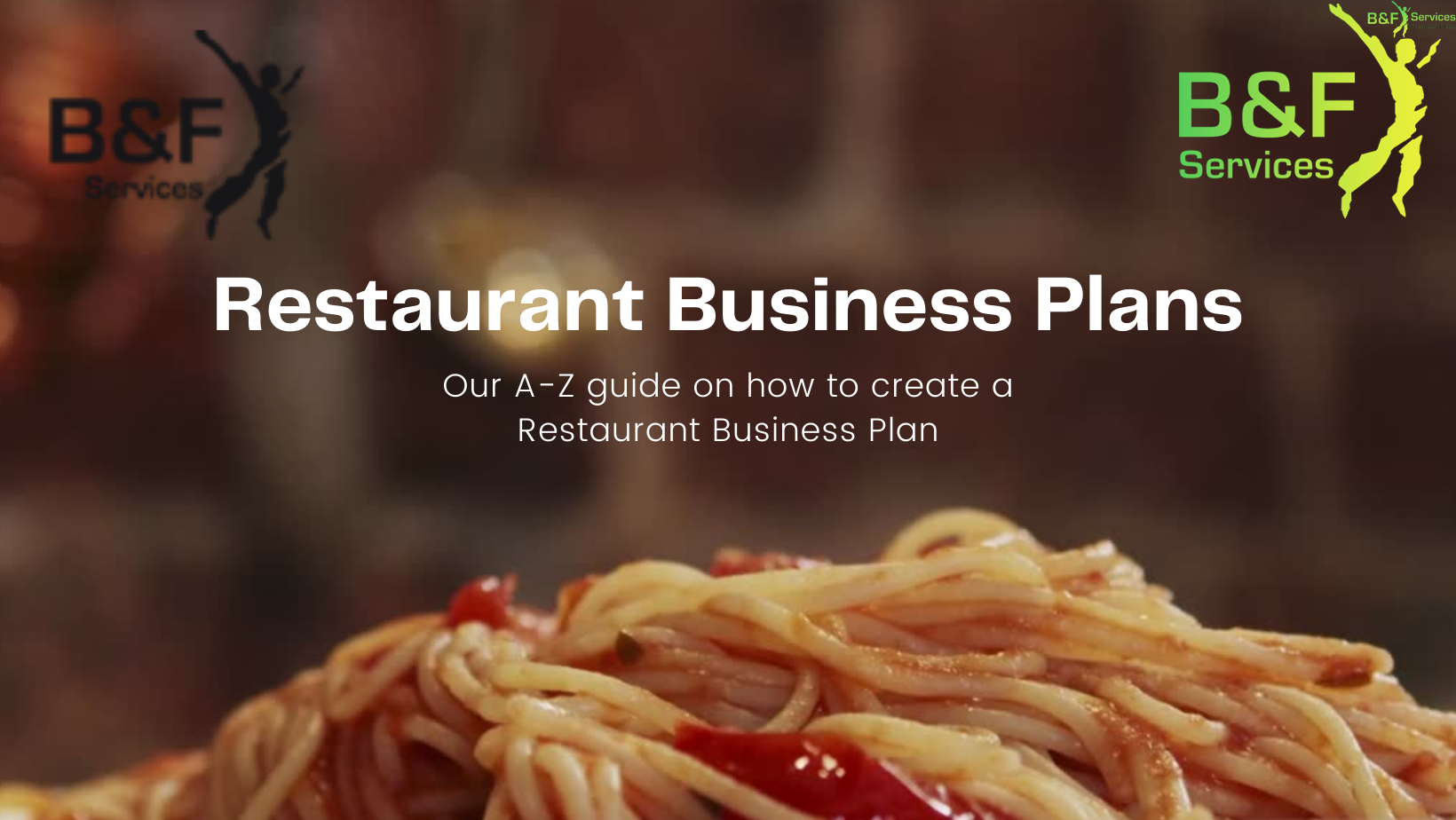 How to write a restaurant business plan: an A-to-Z Guide
Introduction
A restaurant business plan will be a useful guideline from which a new or existing restaurant can develop from. Regardless of how much thought is put into the idea or how many friends have assured you of its potential, it is essential to create a restaurant business plan. It is important to analyse who the direct competitors are within the food and drink industry, look at which restaurants share the same target market and how your business will be different. It is also very important for a restaurant to have a detailed marketing plan with a key focus on penetrating the existing market and acquiring new customers. A business plan will prove the viability of a restaurant idea to potential investors and creditors who will require a clear picture of how the business will perform. One of the key reasons for the high failure rate in the hospitality industry is that restaurant owners often do not treat their restaurant as a good business but rather a place to sell food. Often, they do not have plans to deal with unexpected problems and unforeseen circumstances, and do not understand the true difficulties associated with opening a restaurant. A business plan is essential in mitigating and planning for such circumstances.
Why do you need a restaurant business plan?
The hospitality industry is one of the most competitive markets in the UK, with over 100,000 restaurants and cafes operating across the country. This is where a restaurant business plan is useful as they provide the framework from which founders can start to bring everything together, from the restaurant staff required and menu designs to estimated sales and utilized capacity. Business plans help devise a structured plan and strategy to penetrate the competitive market while providing the business with a guideline to follow. Restaurant business plans are often mainly used internally by restaurant management, owners need to know how to create an easy to follow, understandable and realistic plan. If a restaurant business plan is structured in this way, it will make it much easier for management to refer to and stick with and refer to the plan. Additionally, a restaurant business plan should also be sustainable long-term therefore founders can maintain their core restaurant identity, where they expect to take it, and how they expect to reach their goals.
If owners are looking to secure investment for a restaurant from investors or banks, business plans are essential to maximizing their chances. Investors often use business plans to weigh their decisions on and use the information included to reach a final decision. When pitching a business to investors owners may need help writing a business plan in order to maximize chances of successfully acquiring funding. Early start-ups usually do not have considerable revenue so it is tough to prove if a business will be a worthwhile investment. As a result of the risk, business plans require realistic financial projections, market research and competitive analysis.
What should your restaurant business plan include?
Restaurant business plans often require a carefully thought-out structure with specific details relating to the hospitality industry. A restaurant business plan should be structured like most business plans, but the details need to emphasize communicating the owner's specific vision for the restaurant and its place in the local market. An executive summary is the first section of any business plan, it summarizes the entire vision for the business. This part should briefly explain the key aspects of what will be discussed in the business plan, and pique the interest of the reader, making them pay attention in the idea, and persuade them to continue reading. The entire process of writing a business plan forces owners to tweak and polish their ideas, correct any weaknesses in the plan, and anticipate any possible threats to the business. If business founders are not the most financially astute, having a business plan allows for an opportunity to examine the numbers and make sure they are realistic before investing in the restaurant. Restaurant business plans have a very similar structure to standard business plans and include key sections such as an executive summary, financial forecasts as well as a big focus on marketing strategy and competition analysis. A restaurant business plan should contain analysis of the existing competitive landscape by looking at the number of other restaurants in the local area and particularly focussing attention to restaurants with similar themes and concepts.
A financial analysis is often included near the end of a business plan. If applicable, investors expect to see a breakdown of how you expect to spend money in the first year, a pro-forma cash flow for the next three years, as well as a projection of profit and loss.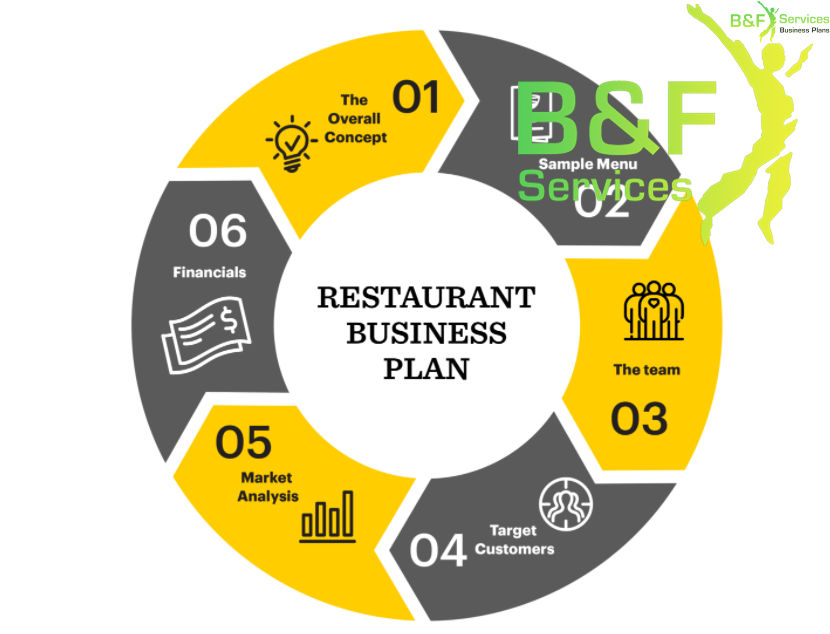 Fig.1 (source: upserve.com) The graphic shows the process of a restaurant business plan and the key components it should include such as the concept, financials, and target customers.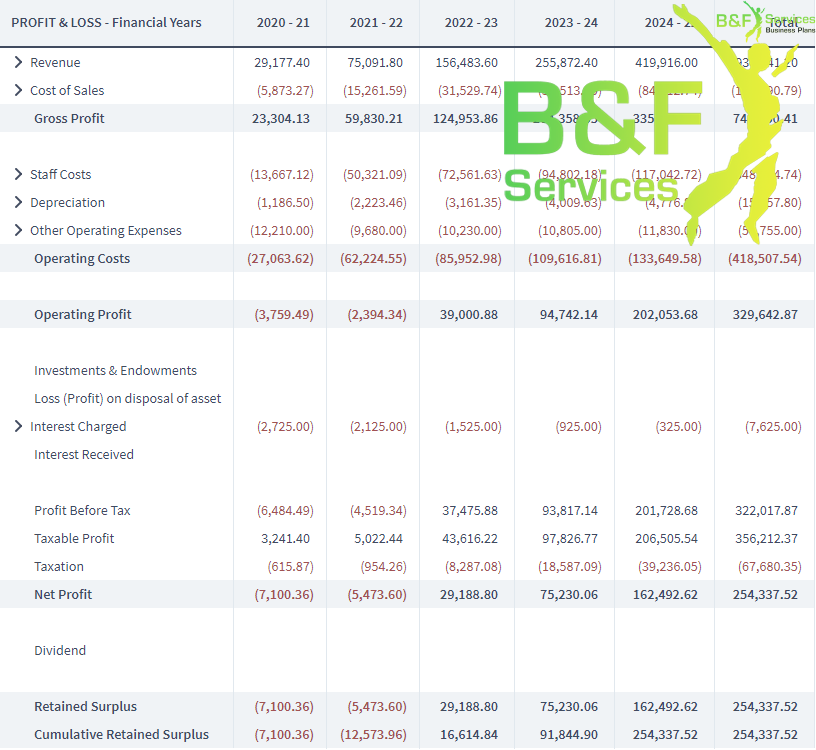 Fig.2 (Profit and Loss Forecast statements) This is a financial plan showing an Income Statement projection for 5 years. It is recommended to at least have 3-year projections with realistic estimates if presenting to investors. These statements are often included at the end of a business plan to show the future value of your restaurant.
Summary
Writing a restaurant business plan requires careful consideration, detailed research, and preparation. If investors or creditors have requested a business plan, it is essential that the restaurant idea and information contained be of high quality to maximise chances of securing external funding. According to a Harvard Business Review study, entrepreneurs who write a business plan are 16% more likely to succeed. On the other hand, many owners may want a business plan solely for their own use and this is also highly recommended as it allows the management to keep track of all their goals and projections.
Many restaurant owners are not experienced business professionals, so it is always recommended to look for a business partner with the necessary experience. If they cannot find a suitable business partner, they should consider hiring a professional team that specialises in helping new restaurants create a business plan and start their operations.