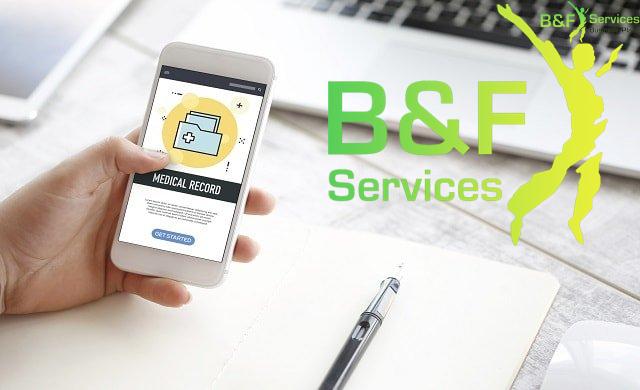 From treating neck pain to sending medication reminders, smartphones and 5G are putting health management into the hands of consumers
Smartphone apps for healthcare are giving people the power to take control of their health without resorting to a trip to the doctor.
As well as saving money and democratising healthcare, these apps are lifting the burden on our overstretched NHS.
ORCHA – a live database of independent app reviews – has identified more than 327,000 health apps available for download, covering 240 health conditions.
Apps are now available to help us manage existing health conditions, prevent us from developing new ones, and even allow us to have a face to face consultation without leaving the house. The NHS already has a curated list of free apps that meet its rigorous standards.
So why will 2019 be a big year for personal health management?
Why personal health apps are a good business idea
According to research from Statista, the mobile medical apps market was worth $2.4bn in 2017 and is predicted to increase to $11.2bn by 2025.
While a few years ago, it would have seemed incomprehensible to trust a phone for advice on serious health issues, people are now increasingly trusting of digital healthcare and recognise its potential as a more immediate and cost-effective solution.
But its potential hasn't yet been fully realised – as this article in appfutura discusses. Emerging technologies such as artificial intelligence (AI), blockchain, virtual reality, and wearables (predicted to grow to $4.4bn in 2019 globally) are blowing the sector wide open.
New possibilities and opportunities are being created every day to help people take control of their personal health, and first movers stand to benefit greatly.
What's more, the introduction of 5G networks in the UK in the middle of next year will also help foster the growth of health apps. 5G will be much faster than previous generations, more reliable, and better able to cope with the kind of high demand apps found in the health sector.
An article in The Economist earlier this year argued that the effectiveness of these healthcare apps will rely on medical record/patient data being more widely available – and more and more countries are now giving citizens access to electronic health records. Trials across the US and Canada have shown that opening up this data makes for happier patients, and lower cost of treatment overall.
However, according to ORCHA, only 15% of the apps it has identified meet minimum standards, and there's still a long way to go in terms of awareness and access. It is often those who would benefit most that have yet to engage: just 43 of those apps account for over 83% of all downloads, and 80% of all digital health apps don't get more than 5,000 downloads.
So what does that mean for new market entrants? It means there's plenty to be improved upon. New apps can look at underserved areas of healthtech, identify issues with previous apps, and simply do a lot better. After all – you can't afford to play fast and loose with people's health because of sub-par tech.
Personal health apps business opportunities
With no shortage of maladies and ailments to fall victim to, digital healthcare trends is an evergrowing area and there are countless opportunities for new apps that can help to either prevent or manage.
Management of existing conditions has proved a popular use for apps. For example, the Low Carb Program is a digital service that helps people with type 2 diabetes achieve sustainable weight loss, improve blood glucose control, and reduce their medication dependency.
There's even an app for neck pain. Reach is an app that allows you to assess and manage pain with physiotherapy exercises. It has tailored workouts, follow-along video exercises, and a team of physios on hand to check in with.
But it's not just physical health that needs to be attended to, and mental health is finally being recognised as an equally important part of our wellbeing.
Workplace wellness platform Unmind helps to improve the mental wellbeing of employees. Its platform creates scientifically-backed programmes that can be used by anyone to look after their mental health at work and at home whether sleep or stress-related. The app can also be used to help people support others. It's delivered through audio, video, and interactive content.
Echo is the free service helping people across the UK take control of their repeat prescriptions. After the user tells the app what medication they need, the app gets approval from their GP and delivers it to their door free of charge. It also reminds them when to take their medicine, and tells them when they need to reorder.
If you are thinking of developing an app to help in the management of a specific condition, make sure you have someone on board from the start (if not yourself) that has expertise in that field. Don't just jump into it because you see the chance to make money: medical conditions can be highly sensitive, and an opportunistic approach could leave you vulnerable to accusations of negligence and exploitation.
As mentioned above, new technologies are going to create some of the biggest opportunities in the space. Bear in mind that being able to capitalise on these could require significant capital and specialist knowledge…
AI is going to revolutionise patient assessment, reducing the time and accuracy of diagnosis and the need for clinic visits. Google Deepmind is currently involved in a research partnership with Moorfields Eye Hospital which could "potentially transform the management of sight-threatening eye disease".
Blockchain will be essential in helping mitigate one of the biggest challenges in healthtech: the sharing of patient data. Its advanced encryption and security procedures allow for private and safe access to sensitive patient information.
One idea could be a specialist healthtech consultancy that helps new apps ensure they are abiding by all existing regulation. You could also think about launching an app development service that specialises in developing healthcare apps.
For advice and assistance in relation to discussing the topic covered above or queries concerning an ongoing investment, fundraise, writing a business plan or information about starting or growing your business; please contact our team in London on 0203 637 6365 or via our enquiry form.