The British Business Bank data on the healthcare and medtech start up UK environment reveals some telltale signs. According to the UK Small Business Equity Tracker Report, the  third largest technology sub-sector in 2017 by deal number was medtech with 48 deals and a total of £125m invested. In comparison the total investment in 2017 was in 1,487 deals valued at £5.9bn. One notable investment was in London based, Orchard Therapeutics. The company was co-founded by Andrea Spezzi and a group of ex-Glaxo-SmithKline staffers dedicated to transforming the lives of patients with rare diseases through innovative gene therapies. The startup ranked at number nine in the Top Ten Largest Equity deals for 2017.
Furthermore, according to Beauhurst, there were a total of 459 early stage fundraises by medtech startups from 2015 Q4 to date and the UK Government has led the investment in this sector. Additionally, Deloitte predicts the market will grow to £2.9bn this year. Increased interest from foreign investors who view UK healthcare tech as rich pickings means the number of deals backed by Silicon Valley investors jumped by 252% in the last five years. Matt Lerner, a partner at San Francisco based 500 Startups, said "the UK has an abundance of talent… and its fintech and healthtech innovation is ahead of the Valley."
The London MedTech directory an endeavor funded primarily by the Greater London Authority, to help London realise its potential in health technology for the economic benefit of London, reports that current UK expenditure of approximately £120 billion per year on the NHS or 9% of GDP means that austerity measures will create real challenges. Added are the effects of an aging population which is ripe for a rapid expansion in technology being implemented to play a role in generating new products, services and systems to benefit health care providers and patients. These medtech solutions would expectedly harness wearables; big data; Artificial Intelligence; Blockchain; health informatics; sophisticated imaging; advanced engineering and 3D printing; Augmented Reality; and Virtual Reality. Further cementing the need for collaborative efforts between public and private bodies to ensure a customer-focused delivery.
Remarkably, Cambridge has become a major hub over for the medtech sector over the past 50 years. Paired with its reputable University of Cambridge which ranks in the top three universities in Europe; the region is known for its focus on the wider life sciences and medical sub-sector specifically and fondly known as Silicon fen, a nod to its greenery and high technology proliferation. According to Beauhurst calculations, Cambridgeshire tech firms raised £506.9m in 2016. While figures for London show that £1.6b was raised over 530 deals in the same time. Comparably, London has a population of 8 million, vs Cambridge's 124,000. Which means Cambridge beats the capital significantly when comparing investment per capita allocation.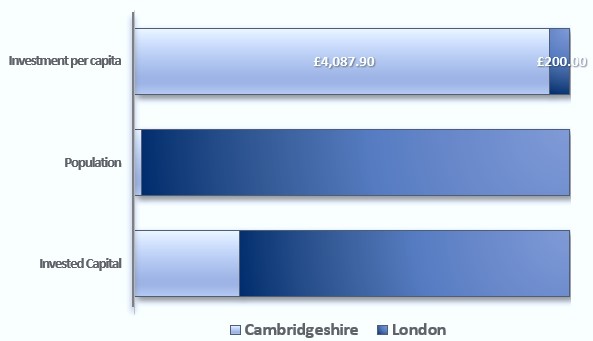 As the UK Government seeks a larger share of the global medtech market (projected to reach $8.7 trillion by 2020), these are some of the incentives it offers medtech business:
o  A nationalised health service providing unrivalled access to a single healthcare market of over 60 million people
o  World-class resources, academic institutions and research to prove concepts for innovative medtech
o  Manufacturing capabilities to design, prototype and engineer medical technologies

o  A national clinical research infrastructure to translate research, access patients and validate and design, utility and effectiveness of your medical technology

o  A fast and supportive regulatory system for CE Marking
o  Health economic assessment to build evidence towards early adoption and market entry
o  Access to anonymised patient data
o  Access to government incentives and tax breaks
o  A supportive investment environment for business growth
Case Study
Ziylo, a University of Bristol spin-out company, was co-founded by 31-year-old Dr Harry Destecroix, when he was studying for his PhD at the University four years ago. The overarching technology developed a synthetic molecule which works by binding glucose in the bloodstream to help treat diabetes more effectively. The company was acquired by Danish pharma giant Novo Nordisk for £623m last month.
HS. Programme, a newly launched medtech accelerator says its mission is to "build and scale healthcare technology businesses, help larger organisations drive healthcare innovation at a corporate level, and position the UK at the forefront of innovation in global healthcare". Their founding team are promising up to 10x returns on investments in the sector, a promise of profitability that is hard to match anywhere else.
In conclusion, the medtech sector offers rich pickings for growth with its often innovative technology and investors are looking to the UK both from Europe and the US for their next unicorn. Even more unique to this sector is the win-win scenario new technologies can benefit the NHS at such a critical time as well as improve the health of the nation.
For advice and assistance in relation to discussing the topic covered above or queries concerning an ongoing investment, fundraise, writing a business plan or information about starting or growing your business; please contact our team in London on 0203 637 6365 or via our enquiry form.