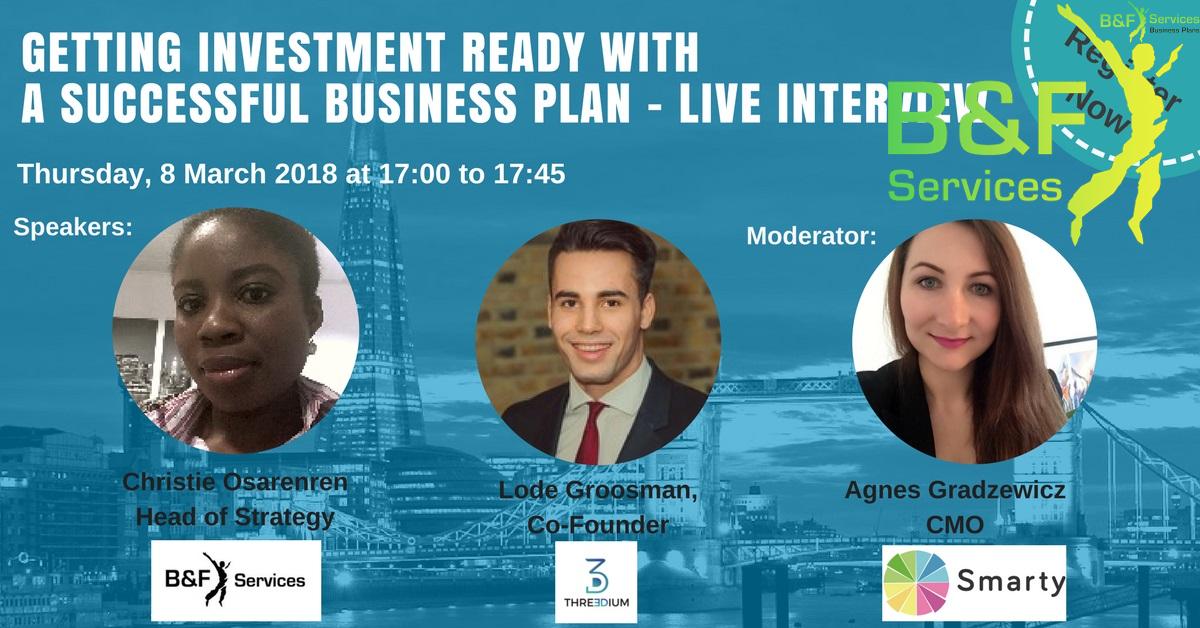 REGISTER
Date: Thursday, 08 March 2018
Time: 5:00pm
B&F Business Plans would like to invite you to join us for a live discussion about getting your tech start-up ready with a successful business plan.
In this 30 minute webinar Christie Osarenren, Head of Strategy at B&F Services and Lode Groosman, Co-Founder, Threedium will share their knowledge regarding business planning and the essential preparations for your tech start-up being investment ready.
Tech startups are blossoming in every corner of the globe and remarkably, a new startup is birthed in London every day, according to Tech City UK. A business plan is an essential road map for the success of any business endeavour, but few small businesses ever complete a plan for many reasons and some simply dismiss its purpose.
We'll discuss the importance of a business plan, how to tailor it to investors with an appetite for technology, how to ensure your message is clear and how B&F Services works with clients to develop comprehensive business plans for tech founders to obtain their target investment.
With a strong presence in the City over the last 12 years, B&F have successfully worked with over 3,200 businesses to date. Our business plans have been instrumental in helping 96% of businesses with raising capital from venture stage to scale-up. As businesses navigate the fundraising terrain the last 12 months have seen an increased demand on our business plan writing services. We provide the key assistance and support for very small start-ups as well as medium-sized organisations preparing for equity funding. We would like to share our experience with everyone looking to take this route to provide clarity on the process.
Speakers:
 
 Lode Groosman,
Co-Founder, Threedium
Lode is high-achiever having delivered high level performance with accolades through his career. His Bachelor's degree in International Business and Administration from the Hult International Business School in London, paved the way for Lode to obtain his Masters' degree in International Business. Together with his MSc, Lode achieved an additional specialisation in project management, aiding him in his management capacity at Threedium. Threedium have successfully started and raised significant funds for their UK tech startup.
Christie Osarenren,
Head of Strategy, B&F Services

Christie works in a broad capacity in the firm overseeing the business planning and consulting services provided to our SME clients. Having worked in data analytics (SaaS) in the Investment Management sector, then going on to focus on consumer market research and technology businesses she has her finger on the pulse of different aspects of business operations. As Head of Strategy, her focus is in working closely with clients across sectors to piecing together all the necessary elements to help them  achieve their startup, growth and expansion objectives. She has a combined BSc and MSc in Mathematics from the Russell Group, Queen Mary University.

Moderator:
Agnes Gradzewicz
CMO, Smarty Software

Watch to learn:
B&F Services' perspective on writing business plans;Case study of a multi-million pound valued tech startup looking to raise equity funding;
Ways of selecting your co-founders;
How to get your tech start-up investment ready;
Real life advice on preparing a business plan for your tech start-up and what boxes to tick;
Learn of the main features of a successful business plan;
Learn from a UK tech startup co-founder the benefits of equity financing and the hiccups experienced in the process;
SEIS approval and what it means;
Who should attend:
Tech founders exploring fundraising
Companies that are looking to receive SEIS approval
Tech founders looking to draft a business plan
Spaces are limited and are available by registering (here) Looking forward to having you join us live for this webinar.