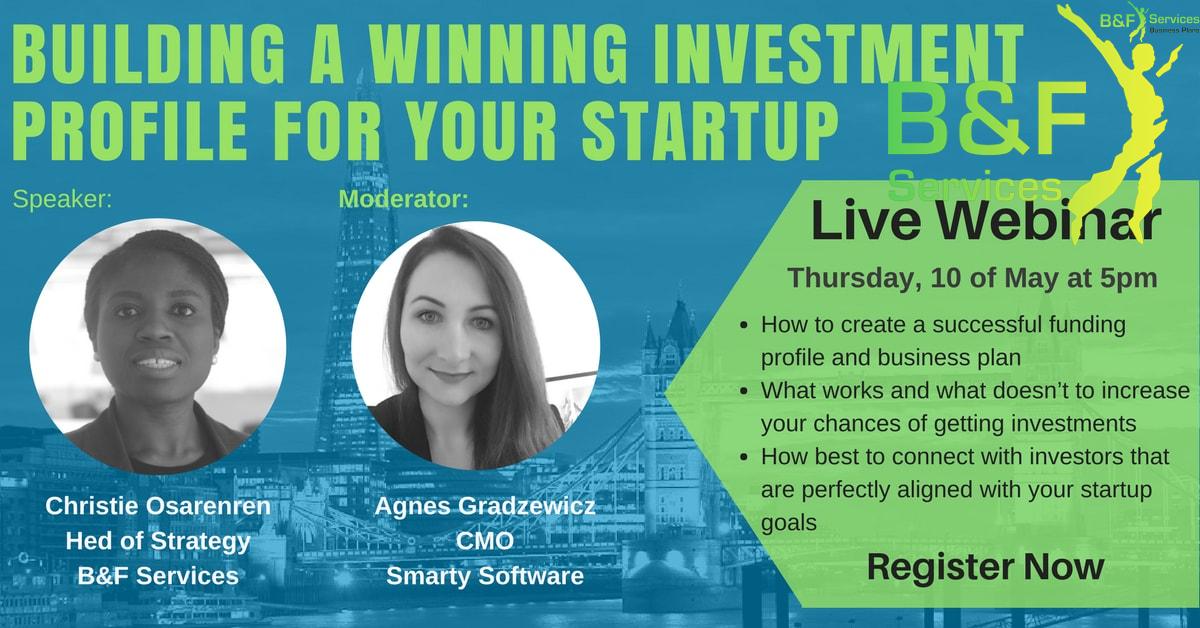 In this 40-minute webinar, Christie Osarenren (Head of Strategy, B&F Services) will give an insightful deep dive into the group of investors that make the difference in startup investments, positioning your start-up for the ultimate win.
According to Beauhurst data for 2017, while private equity and venture capital funders led the pack as the most prominent investor types we saw growth across board especially across crowdfunding, corporate and governmental investors. As the equity investment terrain becomes more saturated, and record level dry powder investors are looking for a winning deal (unicorns like Deliveroo, easily raised £700m in 8 rounds)
As more money than ever is being invested in UK startups and London leading the way, entrepreneurs are poised to learn what investors across platforms and through different channels are looking for. UK high-growth companies, Fin-tech startups and service disruptors alike have earned larger market share in the past year. Several sectors emerge as attractive in 2018 which we would look into during this Webinar as well as how to target the most suitable investors for them.
The critical factor for running and growing your business is access to capital. It is important not only as the means of realising business goals, but also for the strategic and ancillary development of these goals.
With a strong presence in the City over the last 12 years, B&F have successfully worked with over 3,200 businesses to date. Our business plans have been instrumental in helping 96% of businesses with getting investment ready. As businesses navigate the startup and scale up terrain the last 12 months have seen an increased demand on our business development and plan writing services. We provide the key assistance and support for very small start-ups as well as medium-sized companies preparing for equity funding. We would like to share our experience with firms seeking this route as well as demystify the process.
Finishing with a live Q&A, the webinar is a perfect introduction to the premium requirements to secure equity investment from Angel Investors. The discussion would be tackled from all sides delivering much needed insight as well as a step up in achieving your funding goals.
Join to Learn:
A. What B&F Services have done to help Start-ups secure funding
B. Who are Angel Investors and how you can play your cards right when seeking funding
C. What works and what doesn't to increase your chances of getting investments
D. Negotiating the ever delicate issue of valuation and capital allocation
F. How best to connect with investors that are perfectly aligned with your startup goals
G. Case Studies illustrating the points discussed
Who should attend:
A. Business owners looking to raise equity funding
B. Startups currently on the road seeking investments
C. Companies that are looking to sell or expand their business
D. Any interested persons
Spaces are limited and are available by registering (here). Looking forward to having you join us live for this webinar.