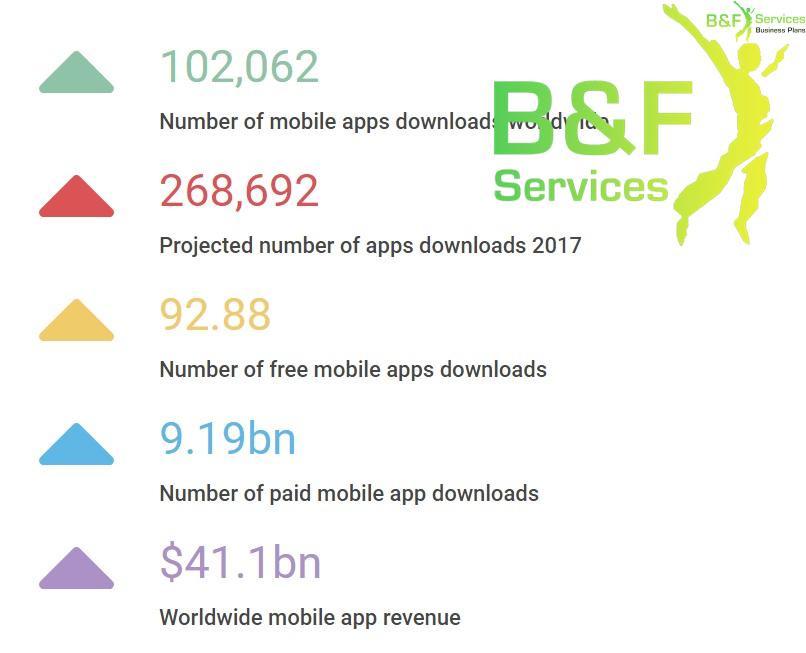 Mobile application development is a term that is used to denote the act or process of developing software, otherwise known as an application, for a mobile device, such as a tablet or a mobile phone. As demonstrated in the consumer analysis, Smartphone's are becoming more and more popular with 71% of adults within the UK now owning a smartphone.
Figure 11: App Stores
| | |
| --- | --- |
| Number of apps available in Google Play store |  2,200,000 |
| Number of apps available in Windows Store |  669,000 |
| Number of apps available Apple App Store |  2,000,000 |
As demonstrated by figure 11, the app market is an absolutely colossal market that consists of hundreds of billions of different applications that all serve different purposes. It is clear to see that the Android market currently dominates the market with around 2.2 million apps available and Apple coming in second with, a still staggering, 2 million apps. It has been calculated that the cumulative amount of apple app downloads over the years has now reached a figure of 140 billion.
Figure 12: App Usage
| | |
| --- | --- |
| Number of mobile apps downloads worldwide |  102,062m |
| Projected number of apps downloads 2017 |  268,692m |
| Number of free mobile apps downloads |  92.88bn |
| Number of paid mobile app downloads |  9.19bn |
| Worldwide mobile app revenue |  $41.1bn |
It is illustrated in figure 12, that although the mobile app market is currently a huge market, there are still massive predictions of growth. The number of worldwide app downloads reached a figure of 102,062 million in 2016; however, this is predicted to over double by the end of 2017 to a figure of 268,692 million. Although it is clear to see that the majority of downloads are generated via free applications, the worldwide app market has generated a revenue of over $41.1 billion and with the predicted growth this figure should soar over 2017. Furthermore, it was announced by Apple that they had spent over $50 billion just on app developers over the years, this demonstrating the magnitude of the app development market and only for the 2nd largest app producer.