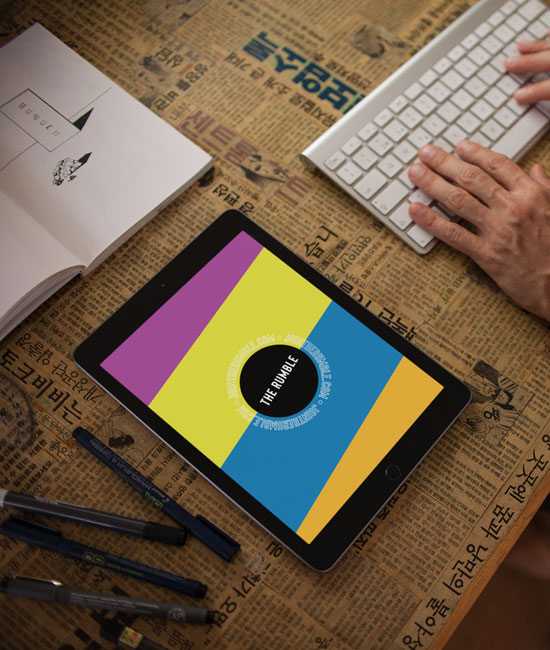 THE RUMBLE A VOICE
AN INTERVIEW WITH JASON AND CHRIS
Both Jason Marriner and Chris Cambell have taken the time to answer some questions, all around their startup, where they plan on it going in the future and where they are at now.
An online platform designed to fight for racial and social justice, to highlight the voices which are often overlooked within society.
With 3.8 Billion users on social media, the offering of a platform to give a voice to the people who are overlooked, it can only be a positive experience to grow, allowing everyone to have a voice and strong safe place to be. 3.8 Billion means that 48% of the population is connected to social media, where The Rumble plan on adding to that, with a positive and bold platform.
There are multiple different platforms out there, with Facebook being the market leader since 2012, and the new viral app TikTok growing by 5.5 times in 18 months has shown that social /online platforms, there is always space to grow and switch up the market. The Rumble, having such a strong platform, giving voices to those who may not be heard, fills a gap in the market which was much needed. With exciting things currently in the works and an exciting launched planned post COVID, they have let us in on their strong backgrounds, creating who they are, how to learn and grow every day.
Can you tell us a little bit about yourself and background - how this shaped your startup?
I'm a musical artist, I started my journey in 2010, then in 2015/16 I started pursuing my music career, its lead me to go into the business aspect of the music industry, which lead me to creating a multi diverse advance music streaming app, and music development platform for aspiring artists, music enthusiasts and everything of that nature. I created the platform called Aspire Streams and I'm looking to focus on aspiring artists, music enthusiasts, getting music development and advancement enhanced and developed to an advanced level, looking to incorporate a social media aspect to it. Bringing the market into a different horizon, promoting my brand as well as other artists, into their own niche.
It started as a hobby when I was at secondary school, everybody, all my friends and peers kept telling me I should really pursue this, because I was really good at making music, my songs were good, so it started as a hobby, then in the first year of university, that is when I started pursuing my music career and really giving it a go. Ever since then I have not looked back. I have just kept on advancing and advancing and improving myself every single year from then on.
Can you tell us a little bit about yourself and background - how this shaped your startup?
Jason, our CEO, was one of two twin Black boys who grew up in a foster family after being found abandoned in a flat at the age of one year old. This led to anger and resentment about being abandoned. He was regularly in trouble at school and was eventually excluded. He had bags of creativity but, sadly, traditional schools are set up to spit out employees, and can be remarkably difficult for those who are entrepreneurs and visionaries. So, he left formal education behind but never stopped learning on his own while exploring and engaging in entrepreneurial pursuits. All the while, He'd been thinking about a business that could have helped someone, like his younger self, to process the unjust experiences people of colour (POC) are met with in a healthier way than he had on his own. Thus, The Rumble!
Chris, our COO and Director of Content, is a mixed-race Native American whose mother was sex-trafficked at 14, twice widowed before she was 20, and did anything/everything someone can to make sure that her family survived over the years. Chris' family were constantly on the move, or homeless, from his birth up until he was 15, when his mother abandoned him. Chris had lived in 38 states by the time he was 21. This unique upbringing showed him all sorts of poverty, despair, and the oppression that comes with it. However, it also meant he lived with and around all sorts of diverse racial and social groups
As we both consider what The Rumble is about and what we aim to accomplish, we're struck by the fact that this venture genuinely feels like the culmination of our entire life's work and the next logical challenge to tackle moving forward.
Would you like to introduce and tell us a little about your startup?
Hi, we're Chris and Jason, and we've founded The Rumble, a multi-faceted company fighting for racial and social justice by offering an inclusive online platform. The platform exists specifically to feature the lived stories from people society ignores. In doing so, we especially aim to provide those from the BIPOC community with a voice; seeking to rebalance the scales of society by addressing the systematic racism that is so ingrained in it.
What was it that inspired you to start this business?
Honestly this business is 100% an extension of our own lived experiences and the frustrations we've had to endure over the years. We've been working on this for years and, with the groundswell of support for racial justice and police accountability we've seen grow out of the murder of George Floyd by police, it's clear that the mission we're on is necessary now, as much as it's ever been.
If you are yet to launch, what are your plans for launching?
So we're in the pre-launch phase at the moment due to COVID. Because so much of our business model is about coverage of live events etc, COVID has meant huge delays for us as a business. However, we've not just sat back on our heels. We've had some really great conversations with international companies, like VICE, about working together and have a plan in place to create some valuable and relevant content for our audience in the run-up to our official launch in Long Beach.
What made you put together a business plan? How do you feel this has helped you get to where you are now?
The Rumble is a venture that can sound simple but is highly ambitious in its execution and aspirations. We were confident we could explain what it was that we were doing but that investors would want to thoroughly vet and stress test the viability of the venture and our financial forecasting. A business plan was a natural step towards making that possible for investors and B&F came through for us with an excellent document that does just what we need!
We would love to know more about your business model – from product / service to your target market.
Our business model incorporates quite a few diverse revenue streams that support each other over the course of the first five years of the business and expand out even further from there. However, the core of the business model is a hyperlocal people-first approach expressed through a small team of creatives splitting their time and talent between creating/curating content for our centralised new media platform and running a local creative agency looking to make a difference to businesses owned, operated by, and/or serving communities consisting of our target demographic.
What is it that makes you unique and stand out from the rest, and why would people take notice of this?
We believe that what makes The Rumble unique is that every facet of the company has been engineered to reinforce the efforts of every other aspect of the company so that the mission and vision cannot help but shine through. There's no filler, no fluff, it's all substance which is how people know that we're serious and sincere about our work.
How has COVID has had an effect on your business, both positive and / or negative?
COVID's negative influence is it has slowed our plans down, massively. There's no getting around that fact! However, in being slowed down we've had the chance to explore future working relationships with some really exciting global companies and to craft a compelling plan for pre-launch content that will serve our audience very well.
At The Rumble, the fun doesn't stop. We're not content with just building our game-changing new media platform. We've got podcasts, books, documentary series, events, art collaborations, pop-up restaurants, and fashion lines in mind. You won't find us twiddling our thumbs anytime soon, not even during a global pandemic!"
What is your biggest achievement to date?
Our biggest achievement to date, as a company, has been getting our business plan, and media pack, into the hands of some of the world's most respected businesses within our niche and hearing, time and time again, that the plan we've worked up is grounded, fresh, and very exciting in its potential!
Where do you see your startup in the future, both near and far (2-10 years)?
So the next two years will see us focusing, initially on Long Beach, California as we establish our base of operation. We'll then spend another year or two expanding that base to encompass the entire greater Los Angeles metropolitan area. The following 5 years will be spent planting new offices of The Rumble in other cities of influence around the US like New York, Atlanta, or Chicago. It's going to be a lot of work but the prospect is very exciting!
Do you have any exciting plans for your startup in the future, which you can tell us about?
At The Rumble, the fun doesn't stop. We're not content with just building our game-changing new media platform. We've got podcasts, books, documentary series, events, art collaborations, pop-up restaurants, and fashion lines in mind. You won't find us twiddling our thumbs anytime soon, not even during a global pandemic!
Is there anything in particular which stands out and gets you excited to grow and experience in the future?
The thing that excites us to grow is the feeling people get when their stories are heard, when they hear stories that echo their own and they feel seen, when they're feeling exhausted and battered down by the constant micro-aggressions and outright prejudice and oppression they face on the daily and they get that spark of recognition, of encouragement, of value that helps them continue for one more day. And then the next, and the one after that, and so on.
How has your overall startup experience been, have you experienced the startup culture?
Well, we don't have pinball machines or beer taps in our offices if that's what you're asking. As nice as that kind of thing would be, we're laser focused on the work right now. Which, when you get right down to it, is the realest aspect of start-up culture. Building something from nothing requires an awful lot of work and this is a passion project decades in the making so we're more than happy to burn some midnight oil to get it right!
What is one thing which you would tell your younger self or someone wanting to startup, that you wish you knew? (tip, advice, quote or resource)
For me, the number one thing is that you don't need to be rich to start a business. As someone who grew up in extreme poverty, I had a lot of entrepreneurial ideas and instincts that I ignored for many years because I felt like there were social, class, and financial barriers between me and starting a business. I'm not knocking formal education at all, but a lot of folks think an MBA teaches you some unwritten rules of the universe that you need to know to succeed. I wish someone had told me sooner that wasn't even remotely true. If you've got a good idea and you're willing to work tirelessly towards it, you can absolutely be successful in business no matter where you've come from.
Is there anything which having a startup has thought you?
Being successful in any venture is entirely predicated on your ability to adapt when faced with problems. There are a million ways to solve any given problem but, if you refuse to be flexible or pivot, then your options slim down very quickly and it can feel like the walls are closing in. But the second you acknowledge that, while the business might look different depending on what changes you need to make, no problem is ever truly insurmountable, you're free.
The last thing I'd like to do is encourage entrepreneurs to be positive. I don't mean naive, but positive. Even during the hardest of times, there's joy that comes in the struggle; a satisfaction in pursuing what you believe needs to exist. And the attitude we allow ourselves to spend time in during the early years is what informs everything else that follows. So, for me, I'm keen to stay positive towards myself, my work, and the people I meet. Especially if we're in competition with each other!