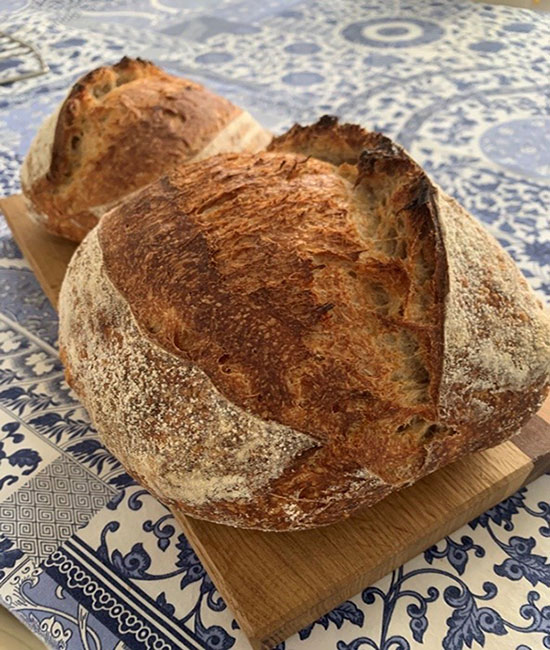 A recipe for success & BREAD Croissants and coffee… An interview with Maria from IRENE BAKERY & MORE
IRENE a bakery with much more than that to offer, being baked on sight with the best possible ingredients resulting in the best product on the market. Understanding nutritional value and peoples love for good coffee, all of this in one place is a recipe for success. Adding beautiful natural wines into the mix and this is a clear recipe for success.
Having more than just a stop by for a croissant and coffee in one place, utilising all of the space, with their own bakery and wholesale with plans to grow into the market in the future, along with an offering of natural wines. Start ups are all about different thinking and being smart with lots of different opportunities IRENE are ready to stand out from the crowd.
" IRENE bakery and more is truly a family business "
The demand for artisan coffee shops is growing and coffee consumers slowly moving away from chain coffee shops. With 24,000 + coffee shops in the UK, this market is growing with more independent / artisan coffeeshops and cafes each year. Along with the rise in demand for speciality coffee, natural wines are is much higher demand than they were a few years ago.
As a result of COVID people are more likely to 'shop small' and want to spend their money with smaller businesses to help out. Along with this, trends are moving towards independent and artisan coffee shops so there is further expected growth to be seen. It is expected what cafes and coffee shops will outnumber pubs by 2030.
Family values within a family business Maria and her partner, along with mum, dad, sister and brother in law are all working together with their strongest assets to make an even stronger café. IRENE is expected to grow into this market perfectly and stand stronger than the rest.
Can you tell us a little bit about yourself and background - how this shaped your startup?
My name is Maria, I am 25 years old and I was born in Kazakhstan. I have always been fascinated and intrigued by cooking, baking and creating food experiences for others. I have been baking since I was very young and, even though some of my "creations" back then weren't very successful, I really enjoyed the process and the fact that I could treat my family with something I made. I guess they did a good job at pretending it was delicious.
Since I have always been interested in food business, I studied Hospitality Management at University of Surrey where I learnt more about the industry, the service and various aspects of management. After my bachelors' degree, I spent a year in Paris trying to learn French and experiencing joie de vivre but most importantly researching outstanding bakeries there and doing internship in an artisanal boulangerie in Saint-Germain-en-Laye in the Western suburbs of Paris. I did that because back then I realised that my family and I decided that we wanted to open a bakery in London that would offer artisanal bread and pastries. They just seemed to be the ideal example of food that is very popular but is still hard to find hand-made, genuine, freshly baked and exceptionally tasty. Roughly at that time my then future husband Andrey became increasingly fascinated with French wine and we started to frequent Parisian caves á vin and first came across organic, biodynamic and natural wines that caught our attention and resulted into a wine retail element being incorporated into the bakery.
"IRENE bakery and more" is truly a family business. My dad is responsible for the finance, my mum bakes at home and inspires us all (the bakery is named after her), my sister is a graphic designer who does all the branding, my brother-in-law is in construction so he is heavily involved in the refurbishment process and my husband organises the wine retail. I am the operational person of the bakery. We all bring something different and all these different inputs will be reflected in this project.
" It was that sense of warmth from sharing something we just baked at home and the desire to keep that feeling and share it with others. "
Would you like to introduce and tell us a little about your startup?
"IRENE" is going to be both retail and wholesale bakery that will have the whole baking operation on the site. We will be making from scratch and selling different pastries and sourdough bread. In the front of the shop we will have a counter that will be operating mostly for the take-away, however we will also have 14-16 seats for the public to seat down and enjoy a croissant and a cup of speciality coffee. At the same time, we are going to offer our guests wine both as takeaway and after some a delivery option through a dedicated website.
As well as selling products to the public, we are planning to supply as a medium-sized bakery wholesaler to small café chains, coffeeshops, restaurants, hotels, offices and other potential customers. The pastries will be sold both frozen and fresh. We are planning on hiring the delivery services company to deliver the products to our clients. We hope to cover Borough of Southwark and other nearby boroughs.
At the same time my husband is going to offer our guests wine to take away and for those situated far from us there will be an option to order through our online website dedicated to wine.
What was it that inspired you to start this business?
I think initially it was that sense of warmth from sharing something we just baked at home and the desire to keep that feeling and share it with others. Later it became more of a professional desire to make a great product which is not yet very common in the UK and deliver it in a memorable manner to the guests. Many things inspired me to start this business: love for bread, people in my life, places I have been to, bakeries I have visited and simply a market research that would show me all the opportunities we have to become a successful enterprise. I believe it's a combination of experiences, a genuine love for the product, a wish to bring something fascinating to the market and a love of what we are doing.
If you are yet to launch, what are your plans for launching?
We are yet to launch in June this year. Although we have started working on our project back in November, it took a while for us to get close to the opening. There were many delays connected to the pandemic and Brexit. Although the climate is still quite unpredictable, we are quite positive that we will be able to start operating in a months' time. Closer to the opening we will be giving some samples to the guests and will start to work on our online presence.
What made you put together a business plan? How do you feel this has helped you get to where you are now?
I've always had a very clear idea that the business plan is essential for starting any business. It might have been my University degree that taught me that. It was always on my mind. In general, I like to have a plan, specifically when it comes to numbers. I also believe that it is the sheer weight of the responsibility of running a business on your own that makes you use all the possible tools to secure the success of your business, especially when it comes to financials. Creating a business plan helps in so many ways. It helps to understand your business better, get a clear idea of your product, look at it from different angles and shape it. The business plan gives a better understanding of your chances in the current market and climate so it is easier to adjust and change according to it. Financially, even though of course impossible to predict all the numbers exactly, I think it is a great tool to plan the budget, to control investment and expenses, to understand better the timescale that is expected for the business to start performing well and have a general sense of direction in which you should be moving. It just gives an idea of what to expect, and to a person who is concerned with the wellbeing of the company it's just a bliss.
We would love to know more about your business model – from product / service to your target market.
We are going to work as both retail and wholesale producers. Even though we may only be a middle-sized bakery, we know for a fact that wholesale will bring more stability to our operations. Therefore, we would ideally reach 60-70% wholesale of overall production. The product for a wholesale will be supplied with a delivery to other businesses within a certain distance. Retail sales are to be made at our bakery in Camberwell that will also operate as a coffeeshop with seating places. We are located on a high street in a busy area with a constant footfall. The area also is not well supplied with bakeries like ours and we think it will help among other factors to attract a reasonable number of guests every day we are open, presumably 6 days a week. We also believe having both a bakery and a wine retail in the same place will enhance and complement both sides of the business by attracting more guests.
What is it that makes you unique and stand out from the rest, and why would people take notice of this?
Freshly baked, made on the premises artisanal bread is generally a rare product in London, if we compare it to other food offerings. High-quality product like ours, served in a newly refurbished pleasant place that is located on a high street, easily accessible, is not easy to find as well. We also wouldn't like to reveal just now everything about our bread, pastries and other goods, but we aim to offer something truly exceptional. We care about the ingredients, the nutritional value, the taste, the appearance, we try to tick all the boxes and make our place the celebration of quality and enjoyment. We also work with several professional bakers from overseas and we try to bring new flavours and textures that would be different from what you would see in bakeries around London in general. We also believe that the wine retail corner that focuses on wines respectful of the nature, which are full of depth but also not readily available widely will be noticed and appreciated. The neighbourship of wine and bread is also not something you find often but what in our view is convenient and is something that some people would be happy to see, even if they haven't thought about this before.
What effect both positive and/or negative has COVID had on your business?
Regarding the positives: we were exceptionally lucky because the use class of the premises that we are renting was changed due to the pandemic in order to give more opportunities to the business. Thus we are now able to operate not only as a wholesale and retail bakery but as a retail bakery with some seating area, of which we are planning to take the most by applying for the outdoor space to be introduced as well. The lockdown also gave me time to think more about the business and do some quality research.
On the downside of things, we, as any other business about to open, experienced delays with deliveries and bookings of refurbishment works.
What is your biggest achievement to date?
Up to date - that meaning that we have not started trading yet - the biggest achievement is certainly being able to navigate successfully the refurbishment process, to be able to meet the deadlines as much as possible and not compromise on the quality of the work.
Where do you see your startup in the future, both near and far (2-10 years)?
In the short-term we are looking to diversify the range of products in the bakery and to increase the number of wholesale clients. We are also going to start offering wine by the glass in the near future with some snacks to accompany it. We are also looking to have a team of like-minded and dedicated people with whom we will grow together professionally.
In the long-term, we are planning to expand to other areas of London and also to do fascinating collaborations with different businesses. Our intent is also to get more involved into charity because we believe that if we get a chance to do something exceptional it is only beneficial to the society if we share it.
How has your overall startup experience been?
I can say for sure that it has been unpredictable and stressful, while exceptionally rewarding at the same time.
What is one thing which you would tell your younger self or someone wanting to startup, that you wish you knew?
It is too early to draw some considerable lessons but from I have already experienced it is clear that
a) there is never enough research to do and
b) everything takes more time than one thinks it does and one should always remember that.
Is there anything which having a startup has thought you?
Definitely. Our experience has taught me to not cave in under pressure, to value people who work professionally and to be ready for unexpected turns and react accordingly.