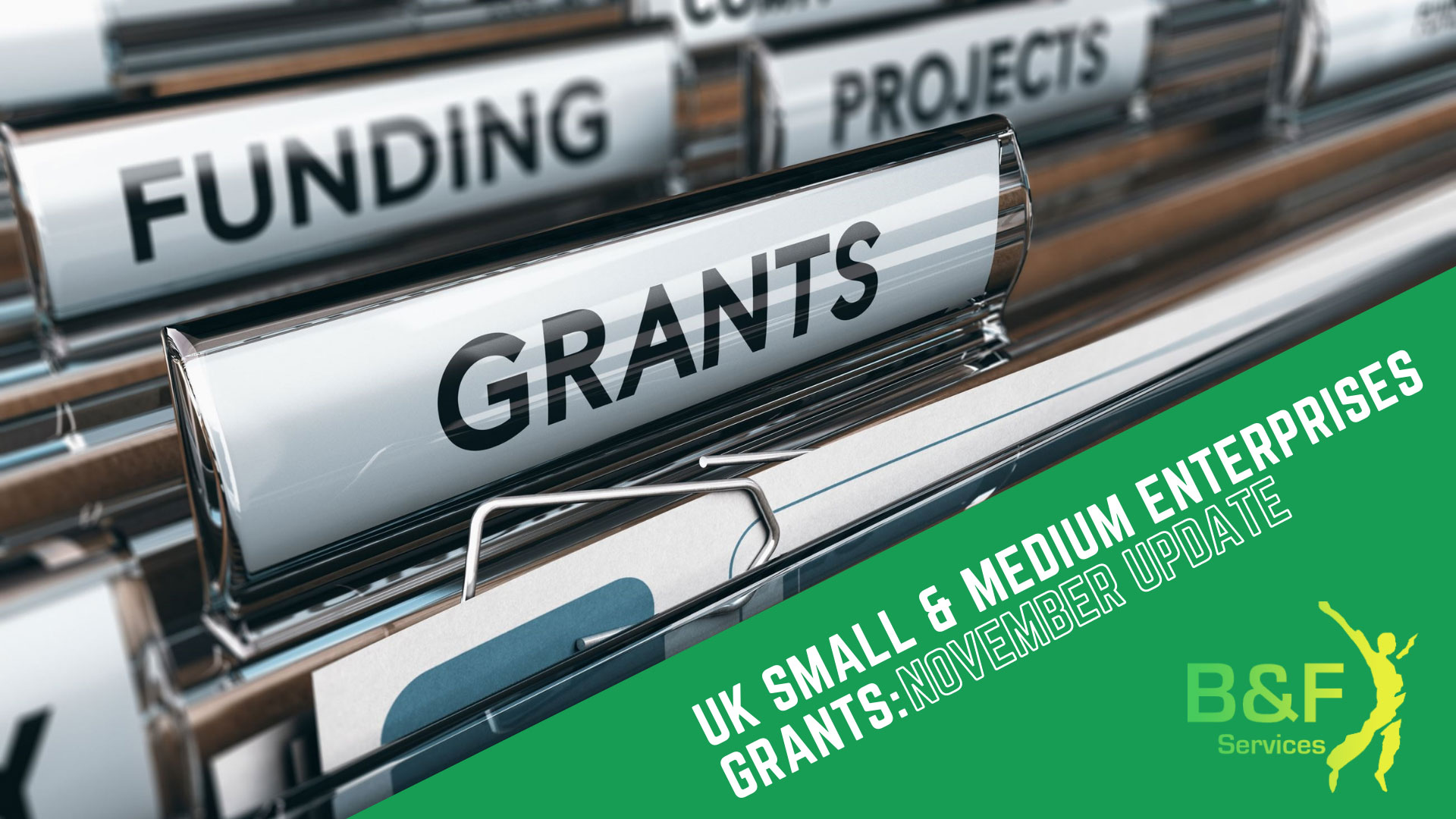 Securing grants for your small business or start-up is a constant challenge – but there is help available. Here, we have rounded up a comprehensive list of grants from all over the UK. In our previous blog, we talked about
UK Business Visas and Grants
and introduced them to you. In this article, we are going to provide updated information about the UK SME grants and the currently available supports for small and medium businesses in the UK.
What are business grants?
A business grant is a sum of money given to a business to help them further their business. They are usually distributed by governments, corporations, foundations, or trusts. Unlike many other types of business funding, grants do not have to be paid back and business owners are not required to give up equity in exchange for a grant – a condition of winning investment – therefore, they are an attractive form of financing for many companies.
Small business grants are often aimed at specific regions, specific industry sectors, specific types of businesses, or specific community groups, which can make grants hard to access for certain companies. For example, some grants for new businesses may only be available for women, while other government business grants may be solely available for start-ups in the environmental sector.
The application process is highly competitive – everyone wants free money, after all – while the size of business grants can vary considerably, from several hundred pounds to hundreds of thousands. It is also important to remember that applying for business start-up grants can be an intense, time-consuming process, with lots of tricky steps, procedures, and processes to get to grips with.
If you are confused about what grants, ventures or loans are suitable for your business, book a call with us here and wait for one of our experts to contact you for a
FREE CONSULTATION!
Types of business grants
As mentioned earlier, we have already introduced a number of business grants
in this article
. Let's take a look at the other types of business grants out there.
Innovate UK Grants
Innovate UK's pilot programme of innovation loans started in 2017 and, through 7 competitions, has now committed £75m to about 100 successful applicants.

As part of the Government's coronavirus response package that includes changes to the timing of projects, continuity grants, additional business advice, a 'fast-start' competition and the Sustainable Innovation fund, Innovate UK is offering up to £210 million in loans to small and medium enterprises (SMEs) and third sector organisations that have a challenge in continuing innovation activity as a result of the COVID-19 pandemic.

Loans are for organisations that find themselves facing a sudden shortage or even unavailability of funds resulting directly from the COVID-19 pandemic. This innovation continuity loan may be suitable if you need funding of between £250,000 and £1,600,000.


Who can apply?
There are three parallel strands for innovation continuity loans:

strand 1: applicants who are continuing and completing a live project with an Innovate UK award

strand 2: applicants who have a new project that follows on from a project with an Innovate UK award that was completed in the last 36 months

strand 3: applicants who are continuing, completing or following on from innovation activity that has not been supported by an Innovate UK award in the last 36 months
You must match all of the criteria:

for strand 1: currently, funded project participants in an Innovate UK award

or for strand 2: participants with a project that follows on from a project with an Innovate UK award that completed in the prior 36 months

or for strand 3: participants with a project that is continuing, completing or following on from innovation activity that has not been supported by an Innovate UK award in the last 36 months

SMEs (the definition of micro, small and medium-sized enterprises (SME) used by Innovate UK is set out in the European Commission Recommendation of 6 May 2003) and third sector organisations

undertakings that find themselves facing a sudden shortage or even unavailability of funding resulting directly from the COVID-19 pandemic

undertakings that were not in difficulty (within the meaning of Article 2(18) of the General Block Exemption Regulation) on 31 December 2019, but that faced difficulties or entered in difficulty thereafter as a result of the COVID-19 outbreak. The Temporary Framework has been extended to provide public support to micro and small companies in difficulty. Micro and small companies are exempt from this test unless:
they are in insolvency proceedings
have received rescue aid that has not been repaid
or are subject to a restructuring plan under State aid rules
They will offer loans of between £250,000 and £1,600,000. The total loan amount cannot exceed 100% of the eligible project costs of your project providing these costs are not already covered through your existing award. They may consider further reasonable costs arising from an increase in the cost of delivering your R&D activity as a result of Covid-19 that are not already covered by other government support.
The Government is looking for businesses who can demonstrate that their innovation activities are making the best progress in innovation and have the best potential for the future.
To apply for an innovation continuity loan, please go to their dedicated
landing page
, which will direct you to the appropriate application forms.
Other Innovate UK funding opportunities
Innovate the UK runs a host of other competitions in more niche areas. These include:

SBRI competition – Modernising Energy Data Applications phase 1
SBRI – AI supporting early detection and diagnosis in heart failure management
Robotics for a more resilient future R&D strand
Robotics for a more resilient future feasibility strand
ATI Programme strategic batch: expression of interest October 2020
Innovation continuity loans: Strand 2 October 2020 follow-on competition
Knowledge transfer partnerships (KTP): 2020 to 2021, round 4
VC Funding
Venture capital (VC) investment can be a useful way to raise funds for your small business. A venture capital fund is an investment fund made up of contributions from wealthy individuals or companies, who give their money to a VC firm to manage their investment portfolio for them and to invest in high-risk start-ups in exchange for equity.
All investors are made aware of what funds or businesses their money is being invested in, as well as the potential risks and rewards of such investments.
Often when raising a fund, venture capital firms will target a certain amount or specific sector they'll invest in.
Each fund will normally finance multiple different businesses – with the range of likely individual investments normally announced when the fund launches.
So, here is our guide to the UK venture capital funds that we think you should get to know.
Kindred Capital
Latest fund size: £80m (February 2018)
Focus: Invests in start-ups from seed to Series A. Generalist.
Notable investments:
Events platform Pollen (previously Verve)
Tampon startup Daye
Artificial intelligence drug discovery startup LabGenius
Self-driving transport startup FiveAI
Index Ventures
Latest fund size: $1bn (July 2018)
Focus: Invests across the US and Europe in startups from seed to venture to growth. Focuses on tech sectors including financial services, software, mobility, retail and enterprise.
Notable investments:
Payments company Adyen
Open-source search startup Elastic
Digital bank Revolut
Digital payments provider TransferWise
Passion Capital
Latest fund size: £45m (2015)
Focus: Early-stage tech.
Notable investments:
Digital bank Monzo
Small business bank Tide
Proptech startup Nested
Cryptocurrency exchange Coinfloor
Balderton Capital
Latest fund size: $400m (November 2019)
Focus: Invests in startups at Series A. Generalist.
Notable investments:
Micromobility startup Voi
Digital bank Revolut
AI pharmaceutical startup Healx
Direct debit company GoCardless
Octopus Ventures
Latest fund size: £230m for its 'Titan' fund (April 2018).
Focus: Three key areas: fintech, health tech and industry 4.0. The team invests in startups at any stage of growth, typically investing upwards of £1m for seed, around £5m for Series A and following on with tickets of up to £25m.
Notable investments:
Holiday booking company Secret Escapes
Women's health company Elvie
Online second-hand car retailer Cazoo
Digital health startup Big Health
Accel
Latest fund size: $575m (May 2019) — Accel's sixth fund for early-stage European companies.
Focus: Early-stage companies (typically at the Series A round). Seeks out founders in Europe and Israel who are building "market-defining" business in both the consumer and enterprise sectors.
Notable investments:
On-demand food delivery company Deliveroo
Music platform Spotify
Mobile games company Supercell
Robotic processing automation giant UiPath
Gigabit Broadband Voucher Scheme
Gigabit-capable broadband connections offer the fastest and most reliable speeds available, and the Government is committed to a vision of a digitally connected Britain.
Homes and businesses in rural areas of the UK may be eligible for funding towards the cost of installing gigabit-capable broadband when part of a group scheme.
Rural premises with broadband speeds of less than 100Mbps can use vouchers worth £1,500 per home and up to £3,500 for each small to medium-sized business (SME) to support the cost of installing new fast and reliable connections.
Group projects are when two or more residents and/or SMEs get together to combine their vouchers towards the shared cost of installation. Single connections are not eligible for additional funding.
'Rural' is defined using agreed standard measures in the relevant part of the UK. For the gigabit voucher premises in the following areas will be defined as rural.
Read more here
Also, in order to qualify for a business voucher you will be asked to self-certify that you meet the European Commission definition of an SME whereby your business has:
Up to 249 employees (in total in the organisation) and turnover no greater than €50m per annum, and/or
A balance sheet of no more than €43m
You will also have to self-certify that you have received less than €200k in public grants in the last 3 years – the de minimis limit.
You will be asked to provide evidence of your status as an SME or sole trader.
Horizon 2020
Groups applying for this award must include a university, college or other academic institution. It is open to everyone and has an emphasis on excellent science, industrial leadership and tackling societal challenges.
Horizon 2020 grants are typically made available as part of a specific call out for a particular business sector and partners from other EU countries are required.
Read more here
R&D Tax Credits
R&D Tax Credits are for innovative projects in science and technology. They can be claimed by firms who want to research or develop an advance in their field. You can even claim it on unsuccessful projects.

You can apply if you have fewer than 500 staff and a turnover of under €100m or balance sheet total under €86m.

There are different types of R&D relief, depending on the size of your company and if the project has been subcontracted to you or not.
Small and medium-sized enterprises (SME) R&D Relief
Research and Development Expenditure Credit
Seed Enterprise Investment Scheme (SEIS)
You may be familiar with this scheme. It helps start-ups to raise money for their business. You get a maximum of £150,000 including state aid awarded in the three years running up to the date of investment.

Make sure you meet the conditions so investors can claim and keep SEIS tax reliefs relating to their shares. Said tax reliefs will be withheld or withdrawn if you do not meet these conditions for three years after the investment. The money must be spent within three years of the share issue.


How do you apply for a business grant?
There are thousands of business grants available at any one time in the UK, so how do you maximise your chances of securing the one you want? Here is the best way to apply for a grant:

Find a grant you are eligible for – As there are so many grants you could potentially apply for, you will need to narrow down your options. You can use the business finance support finder to search for government business grants based on industry, size, or locality.
Research your chosen grant – After you have settled on a grant, it is time to research. Contact the awarding body to assess your chances, read up on the objectives of the grant, and check that the grant's time frame fits with your needs.
Ensure you have the necessary funds – Many grants require you match the amount of grant money, meaning that you will be putting up 50% of the cost of the project. If that is the case for the grant you are applying for, ensure these funds are available.
Make your application – Finally, it is time to make your application. Provide a thorough business plan, a clear work plan, and an outline of your business history. You should also address the objectives of the grant and explain how the awarding body will be meeting their objectives by selecting your business. This is where our team can help you the most. Contact us here for a free consultation. We guarantee your success!
With a strong presence in London over the last 15 years, B&F Services has successfully worked with 3000+ businesses and raised over £55,000,000 fund for small businesses to-date and have helped start-ups and investors to settle in the UK.
Find out more about our team
We hope that you find this article useful and informative. Our company also offers a free consultation, which could help you decide better and achieve your goals easier. Contact us for a
FREE CONSULTATION!